Advent Activities for Kids
Advent is all about counting down the days to Christmas, and here at Activity Village we can help you fill up those days with a glorious assortment of Advent activities for kids, including Advent colouring, Advent calendars, Advent crafts, Advent printables, Advent puzzles - all ready to explore below and enjoy with your family!
Advent is one of the most exciting times of the year for children (and for some of us grown-ups too!) There are so many ways to capture the magic and make this Advent really special, and we've tried to bring them to you here on these pages. We are particularly proud of our collection of Colouring Advent Calendars, which you can tuck into your DIY Advent Calendars or just print out daily for some quiet colouring time.
And when we are a little way into December, of course we have a HUGE selection of Christmas Activities for Kids for you to explore, too!
What is Advent?
The word "advent" means "coming". In the Christian calendar, Advent is the period when Christians prepare to celebrate the birth of Jesus on Christmas Day. Advent officially begins on the Sunday closest to the 30th November. The first day of Advent therefore begins somewhere between 27th November and 3rd December.
In fact, many people now regard 1st December as the first day of Advent, and that's when we open the first door of our Advent Calendar - or colour the first page of one of our lovely Christmas Colouring Advent Calendars!
You can learn about Advent Traditions below.
Our Advent Activities for Kids
What is Advent all About for Kids?
When we might think of counting down the days until Christmas, a lot of kids think about tearing open Advent Calendar doors to grab a quick chocolate before going to school! But there's much more to Advent than just that. Advent is an important part of the Christian calendar and is all about preparing for Christmas Day one day at a time. The month before Christmas feels like the longest time of the year for many kids as they wait and wait for the big day. Celebrating Advent can help children focus on some of the less commercial aspects of Christmas and also gives them day-to-day activities that will make the long month of December go a little quicker and hopefully provide some family memories.
How Do You Explain Advent to a Child?
For children, the weeks leading up to Christmas are often a whirlwind of excitement and anticipation. Advent can be a lovely way to refocus on the month of December and to take a little time each day to prepare for Christmas. But how do you explain Advent to a child? You can begin by asking young children to share their own experiences of waiting for something, perhaps their birthday or a holiday. How did they feel during this time of waiting? You can then explain that Christians celebrate the weeks before Christmas with a season known as Advent, and it is a way of saying "I can't wait for Jesus to come".
Advent Traditions
Advent is full of traditions! As Christmas is one of the most important Christian holidays of the year, the countdown to Christmas has also always been important, and the days before the celebration of the birth of Jesus marked in various ways with traditions passed down over the years.
Advent Calendars
Advent is the countdown to Christmas - and how better to count down the days than with an Advent Calendar? It is thought that printed Advent Calendars originated in Germany in the early 1900s, and the first printed calendar with little doors was also made in Germany, in the 1920s. Many of our Christmas traditions come from Germany, of course - including Christmas trees!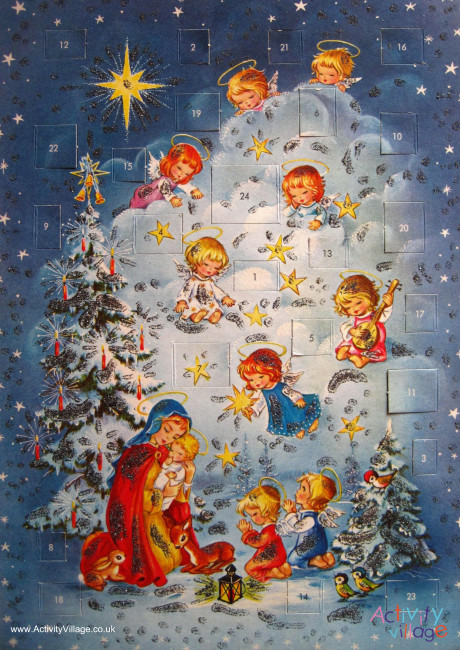 The idea of the original Advent Calendars was that one little door was opened every day to reveal a tiny picture or perhaps a bible verse. More recently, the doors have opened up to reveal a chocolate! And now there are many Advent Calendars offering a little toy for children each day and a little themed gift for adults.
It has also become very popular to make your own DIY advent calendars and fill them with your own gifts. We have plenty of ideas to get you started!
And of course here at Activity Village we specialise in colouring Advent Calendars!
Advent Wreaths
The Advent Wreath is another Christmas tradition. An everygreen wreath has four candles, often red, which are lit one by one each Sunday of Advent. Some wreaths have a fifth candle, often white, which is lit on Christmas Eve or Christmas Day to represent the birth of Jesus.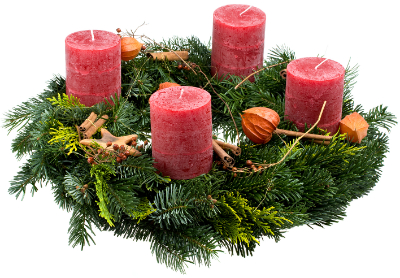 We have some lovely Advent Wreath crafts and activities for you to explore with the children.
Family Traditions for Advent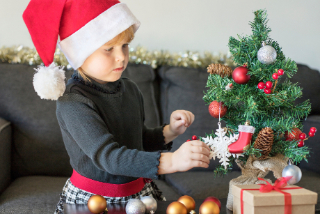 We've got many more Advent activity ideas here - including our Advent Activities for Families - lots of suggestions of activities and treats that you can enjoy together. Read online or download as Advent Calendar printables for tucking into your homemade Advent Calendars.
Our Favourite Advent Tradition
Our favourite Advent tradition was to read a Christmas story together in the evening before bed. We would start this the night that we put the Christmas tree up - usually about 2 weeks before Christmas. We built up a number of Christmas books over the years, printed off a few Christmas stories, and supplemented our collection from the library. I wrapped them up and kept them in a basket under the tree, and the kids took turns picking a parcel and opening the book.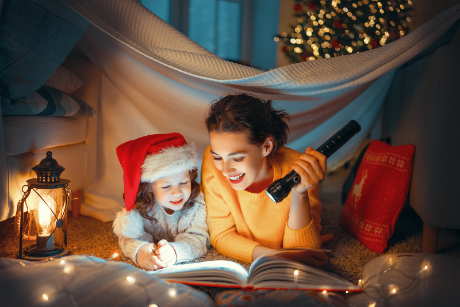 Once the kids' schools broke up for Christmas, we would also sit down each evening to watch a Christmas movie together. Our all-time favourite was Home Alone! But we also enjoyed A Muppet's Christmas Carol
8 Facts About Advent
Here are 8 interesting facts about Advent that you may or may not already know!
Although Christmas is associated with the colours red and green, Advent is associated with violet, purple and rose. The violet and purple colours represent fasting and repentance and the rose represents joy on the third Sunday of Advent.
The Advent we know in modern times was developed in Rome. Many of the ideas and themes can be traced back to the Roman Advent season, and around the late 6th Century Pope Gregory I composed many of the psalm responses and prayers.
The word 'Advent' is from the Latin word adventus, meaning 'arrival','visit' or 'coming'.
In Eastern Christian Churches, Advent goes by several names including The Nativity Fast, Christmas Lent, Winter Lent or St. Philip's Fast.
In England there used to be an Advent custom popular in northern counties where poor women carried around two dolls dressed to represent Jesus and the Blessed Virgin Mary, known as the "Advent images".
The third Sunday of Advent is called Gaudete Sunday, and is seen as a day to rejoice. Gaudete comes from the Latin word "rejoice!"
Advent Calendars were not produced during World War II to conserve paper.
There used to be five Sundays for the season of Advent, later reduced to four by Pope St. Gregory VII in the 11th century.
In Italy, Calabrian bagpipe players travel to Rome and play before the shrines of Mary during the last days of Advent.
---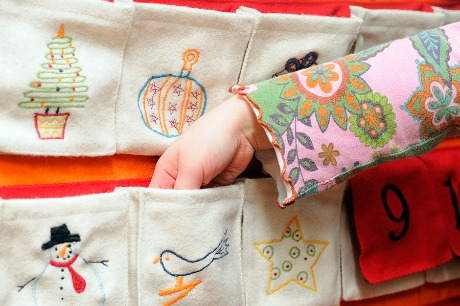 What will you tuck into your child's Advent Calendar this year?
"Every year we pray those beautiful prayers of longing and waiting, and sing those lovely songs of hope and promise."
Karl Rahner
Explore Activity Village