St Andrew's Day
St Andrew's Day is Scotland's national day, celebrated on 30th November every year. It is also known as the Feast of Saint Andrew, Scotland's patron saint. We've got all sorts of information, fun printables, colouring pages, crafts, puzzles and worksheets to help you learn about St Andrew's Day, Saint Andrew and Scotland with your children and celebrate too.
Join in the fun with our fun St Andrew's Day activities for kids! You might also want to explore our Scotland topic for more activities.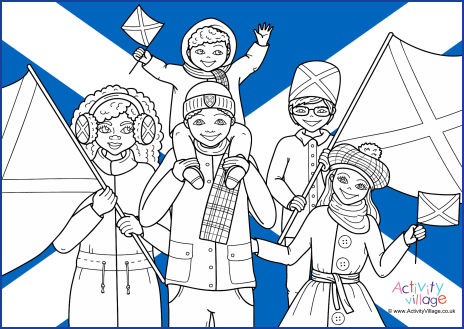 How do People Celebrate St Andrew's Day?
Lots of special events are held and many people enjoy Scottish country dancing, listening to bagpipes and eating lots of good Scottish food!
Is St Andrew's Day a Public Holiday?
Yes, in Scotland! If 30th November falls on the weekend, the following Monday becomes a bank holiday instead.
What was Saint Andrew Famous For?
Saint Andrew was one of the 12 apostles of Christ. You can learn about Saint Andrew and explore our resources here.
Our St Andrew's Day Activities
St Andrew's Day Traditions
St Andrew's Day is an official bank holiday in Scotland, and the day is marked with a celebration of Scottish culture which includes traditional music, dance and food. Traditional activities may involve enjoying the national dish of haggis, neeps and tatties, storytelling, reciting poetry and enjoying a ceilidh, a party which involves traditional folk music and dancing.
St Andrew's Day traditions vary slightly throughout the different regions of Scotland. Glasgow hosts a spectacular torchlight procession through the city, and in East Lothian the annual Saltire Festival celebrates Scotland's rich arts and sporting heritage with traditional music performances, crafting workshops and a 10k night run. The Oban Winter Festival celebrates St Andrew's Day with Gaelic and Scots tunes, haggis tastings and a whiskey festival.
The Story of Saint Andrew
Saint Andrew was a humble fisherman from Galilee born between AD 5 and AD 10. A follower of John the Baptist, he was said to have spread the word of Jesus throughout Greece before being put to death by the Romans on a cross. It is said Saint Andrew felt he wasn't worthy enough to die on the same shaped cross as Jesus and asked to be crucified on a diagonal cross. The same diagonal cross is now used on the Scottish flag.
After he died, Saint Andrew's bones came to Scotland, although nobody is sure exactly how they got there. Legend says that Saint Andrew's relics were brought to Kinrymont in Fife from Patras in Greece in the fourth century by Saint Regulus. Some accounts say he was told by an angel to stop intentionally on the shores of Fife, and others say he was shipwrecked off the coast.
You can learn more about Saint Andrew here.
Why Do We Celebrate St Andrew's Day?
Although the Scots have honoured Saint Andrew since about 1000 AD, it wasn't until the 18th century that St Andrew's Day began to be celebrated every year. The tradition actually began in the United States, when Scottish immigrants in Charleston, South Carolina began to celebrate St Andrew's Day as a way to reconnect with their Scottish roots and to promote his ideals of charity and kindness. They began celebrating on 30th November and also became well known for their protection of local orphans and widows. Scotland began to celebrate too, and today Scots around the world celebrate the richness, generosity and kindness of Scottish culture and spirit on St Andrew's Day.
Throw a St Andrew's Day Party
Why not celebrate St Andrew's Day by throwing your own party? Here's a list of fun ideas to try…
Decorate your home or classroom with the Scottish flag. We have big selection of printable Scottish flags to choose from!
Wear clothes with a tartan pattern. You can get hundreds of different styles, and don't worry if you don't have a kilt – you could simply wear a tartan hat or scarf.
Try some traditional Scottish food. The national dish of Scotland is haggis, neeps and tatties, or, if you have a sweet tooth, how about some tasty Scottish shortbread?
Scottish music is a huge part of Scottish culture, so listen to some Scottish folk music or bagpipes and try some traditional Scottish dancing!
Enjoy some Scottish-themed activities (explore our collection of ideas above!) or crafts.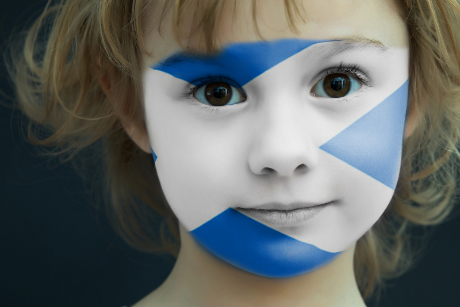 Why not throw on some face paint for a St Andrew's Day party?
---
More Interesting Facts About St Andrew's Day
Why Did St Andrew Become the Patron Saint of Scotland?
St Andrew never visited Scotland during his lifetime, so why did he become the patron saint? The traditional legend says that in the year 832 a joint army of Scots and Picts under King Oengus II met an Anglian Northumbrian force close to Athelstaneford, a village found near to the east of Edinburgh today. King Oengus knew his soldiers were outnumbered, but prayed the night before the battle that they would prevail. St Andrew appeared in a vision to the king promising victory, and as the two sides faced each other the next day the clouds formed a diagonal white cross in the blue sky. The Scots and Picts won the battle, St Andrew was declared Scotland's patron saint and the white cross in the blue sky (the saltire) became Scotland's flag.
Why is Saint Andrew Important to Scotland?
Saint Andrew has been important to Scotland since the early days of Christianity. Because he was the brother of Saint Peter, the founder of the Christian Church,the Scots appealed to Pope John XXII for protection against the English kings who were trying to conquer the Scots. The Declaration of Arbroath was a letter written by Scottish clergymen to the Pope in 1320. The letter argued that the Scots had long enjoyed the protection of Saint Andrew, and that they were a distinct people from the English.
---
More St Andrew's Day Ideas

Thistles

Our Scotland Topic Pages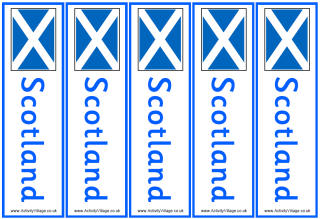 Scotland Flag Printables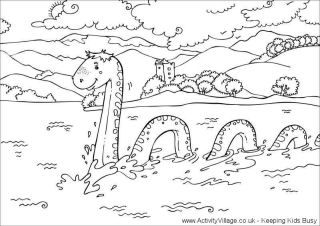 Loch Ness Monster
---
More Scottish Celebrations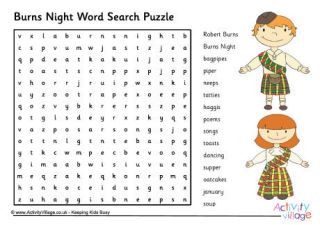 Burns Night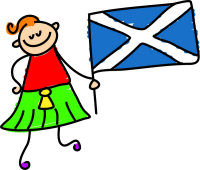 Explore Activity Village