It's always useful to have a stock of handmade greetings card ready to go, and this idea from Shelly is simple, quick and fun - and perfect for Mother's Day!

I love the idea of home-made cards and they don't need to be that fancy or perfect; in fact it is often the imperfect cards that have ended up meaning the most to me. We recently made a few different flower cards that were really quite easy to make but very effective. And the only things that you needed to have to make them were the card, a template, some patterned paper, glue, scissors and a pen to write with. The best crafts are the ones where we already have everything that is required in the house.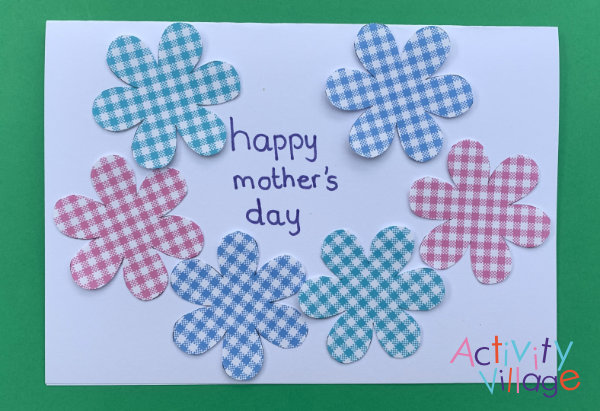 Just one of our completed cards
We started by selecting a template. In this case we chose flower template 2 - one which did not require the centre of the flower to be cut out. We didn't have any suitable patterned paper in the house so we downloaded some scrapbook paper and printed that out. You could really use any pattern for this craft but we selected the modern rose scrapbook paper pattern and the pastel gingham scrapbook paper pages so we could try layering.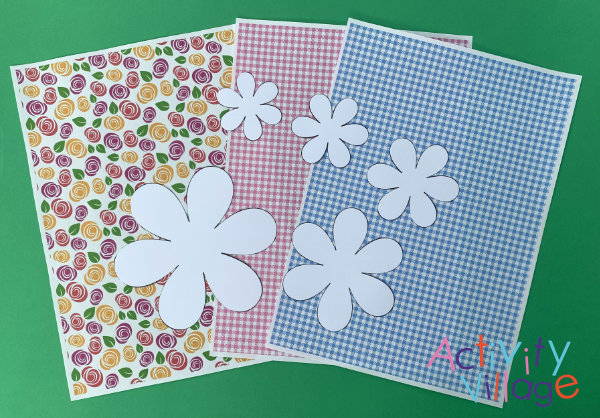 Printing scrapbook paper and flower templates

Flower templates in different sizes
We cut out a number of different size flower templates, traced around them onto the patterned paper and then cut out our patterned flowers. When my kids were younger I would often just get them to cut the basic shape and I would cut out the harder, smaller sections for them. That way they did a lot of the cutting but did not get discouraged by the harder sections.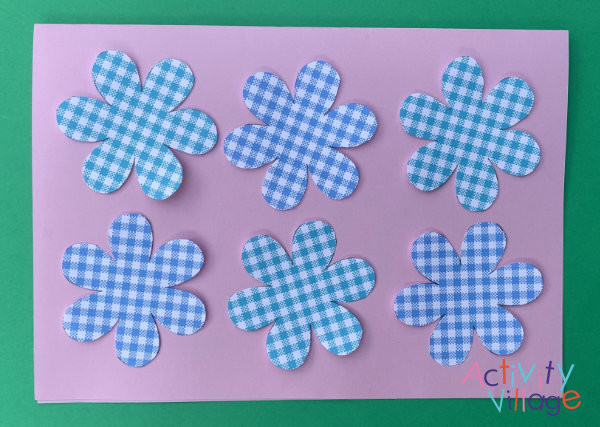 Cutting out lots of flowers!
Then the fun began, trying to decide how we would arrange the flowers onto our cards. I thought fewer flowers were more effective.

Just a few flowers on this card
But my kids seemed to like the idea of lots of flowers!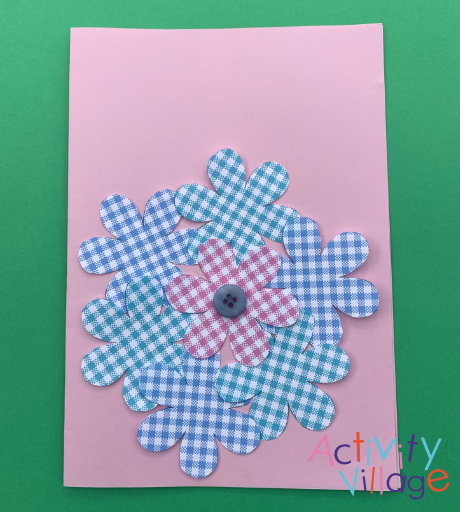 Lots of flowers - formed into a wreath
As you can see, we added a few buttons to the centre of some of the flowers. You could also add craft pom-poms or possibly scrunched up tissue paper just to make the centres a bit more noticable.

Adding buttons to the centre of the flowers

A pretty, simple flower card with button centre
When we started making these the thought was just to make some fun cards for our collection. Once we had made a few I realised they would be perfect for Mother's Day cards.
All you would need to do is write a little message on the outside saying Happy Mother's Day and you would be all set.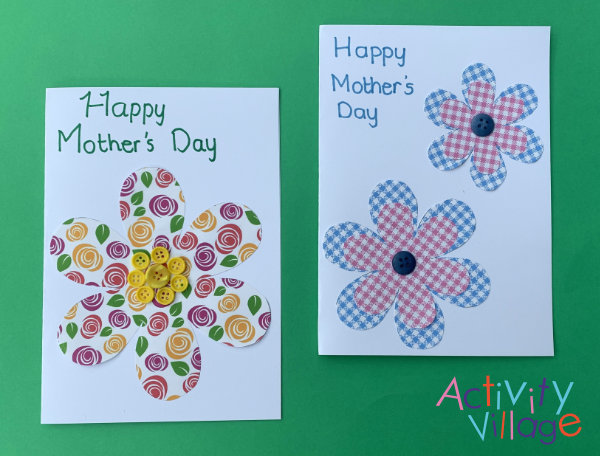 Turning our flower cards into Mother's Day cards

Thanks to Shelly for this idea (which she wrote a few years ago when her children were younger).
Shelly is a home educating parent of two children aged 10 and 12. She blogs at ofamily learning together where she shares ideas on the different learning activities that they do including lots of hand-on maths, arts and crafts and anything else that is part of their home educating lifestyle.