Nowruz
Nowruz means "New Day" and is the Persian New Year. You can find out about the traditions of this happy celebration below as well as enjoy some of our Nowruz activities for kids!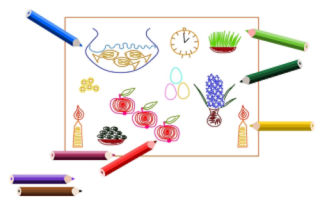 Learn About Nowruz
Nowruz is celebrated on the Spring Equinox - 20th/21st March - each year, and is a joyful, colourful celebration dating back at least 3,000 years and featuring many ancient rites and customs. Also known as Noruz, Norouz, Norooz, Noe Ruz, Naw Ruz and many other variations, the holiday originated in the ancient Zoroastrian religion, once widespread in Central and Western Asia. It is now a secular holiday celebrated by Iranians all over the world and also in Iraq, India, Afghanistan, Tajikestan, Turkmenistan, Uzbekistan, Azerbaijan, Kazakhstan, and Kyrgyzstan.
Preparations for the Holiday
Like many celebrations of Spring, preparations for Nowruz involve a good spring cleaning of the house! New clothes are bought, and flowers - particularly hyacinths - are put out on display. The Haft Seen table will be arranged (see below), and all sorts of pastries and cookies and nuts and dried fruit will be bought ready for the celebrations. On the last night of the old year, known as chaharshanbe souri or "Red Wednesdayˮ, children will often run through the streets banging pots and pans to make a loud noise, thumping on doors and asking for sweets! Fires are lit and families jump over the fires (don't try this at home please!) while singing traditional songs.
Haji Firuz
In some areas, a man will dress up as Haji Firuz, the traditional herald of the new year - wearing all red clothes, with a red felt hat and face covered in soot. Traditionally Haji Firuz would dance through the streets with a troop of musicians singing his own special song and playing a tambourine, people joining in and following along. This custom is becoming less common.
The Haft Seen Table
Also known as the Haft Sin table, this is a vital part of the celebrations and much care is taken with the display.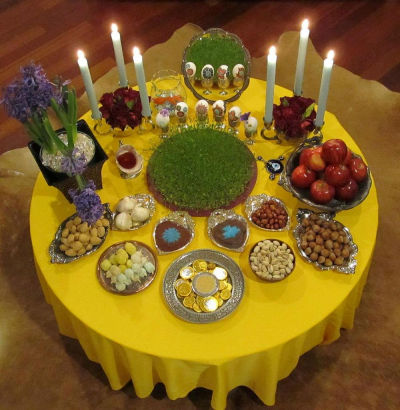 Photo by Mandana asadi, Creative Commons Licence
First a special cloth (the sofreh) is spread on the table, then seven traditional items are placed carefully. Each of the seven items begins with the Persian letter Sin.
Sabzeh - wheat, barley, mung bean or lentil sprouts growing in a dish to symbolise abundance
Samanu - a sweet pudding which symbolises affluence
Senjed - the dried fruit of the oleaster tree, symbolising love
Seer - garlic, for protection against illness
Seeb - apple, for health and beauty
Somāq - sumac fruit, for sunrise, a new dawn
Serkeh - vinegar, for old-age and patience
Sometimes the following are also placed on the table:
A book of poetry by Hafiz (or Hafez), a Persian poet from the 14th Century (or a copy of the Koran)
gold coins
a mirror with candles on either side for each child of the family
a goldfish in a bowl for good luck
hyacinths
painted eggs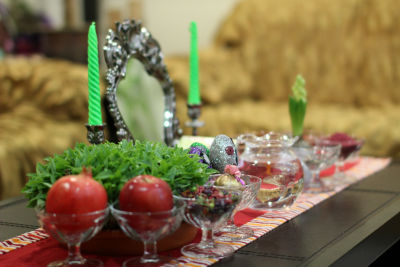 Another Haft Seen table display
You can find a colouring page of a Haft Seen table to print and enjoy, below!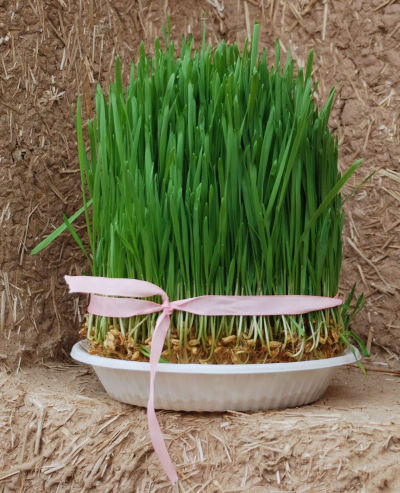 Sprouting wheat for a Haft Seen table
The Celebrations
On the first day of the New Year, families dress up in their new clothes and wait near the Haft Seen table for the exact moment of the New Year, then exchange gifts. Afterwards it is traditional to pay visits to family, friends and neighbours, starting with the most senior members of the family. Visits are returned, so there is much to-ing and fro-ing and lots of opportunity to tuck into new year food! If family and friends live far enough away to make visiting difficult, big family parties may be held instead. Visiting continues for 12 full days. On the 13th day, Sizdah Bedar, families and friends gather together outside for picnics, music, dancing and outdoor fun. On this day the sabzeh (sprouting wheat) from the Haft Seen table is thrown away outdoors, taking with it the family's bad luck.
Nowruz Activities for Kids
More Ideas for Nowruz

Hyacinths are displayed around the house at Nowruz and are often placed on the Haft Seen table. Explore our new hyacinth activities here:
Hyacinths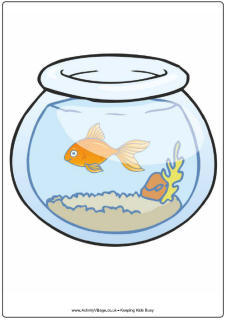 Goldfish bring good luck to the family when placed on the Haft Seen table. Have fun with our goldfish here:
Goldfish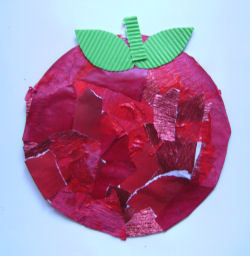 Another item displayed on the Haft Seen table is the apple. We've got some fun apple crafts and printables here:
Apples

Why not have a go at one of our candle crafts? Or more... remember, one candle for each child in the family!
Candles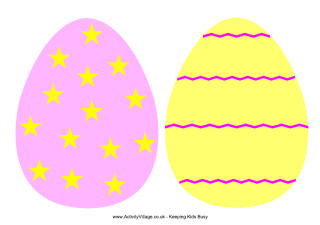 How about some eggs! Type "egg" into the search box at the top right hand corner of this page and you'll find all our "eggy" activities, including this fun big egg game!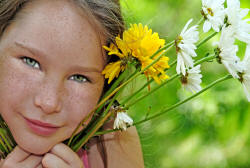 Nowruz is all about saying goodbye to Winter and hello to Spring! We've got lots of lovely spring activities to explore here:
Spring
And Finally...

Iran