New Year
Happy New Year! Everyone likes to celebrate the New Year and kids are no exception .. although often the children are sent to bed while the adults have all the fun! We are getting ready to welcome in 2024 with the family or in the classroom with our collection of printable New Year activities for kids, games and New Year kids crafts inspiration!
Why not celebrate the New Year twice this year - once with your kids at just a little past their normal bedtime - and once again at midnight, when they are safely tucked up in bed? We have many activities and printables at Activity Village to help your celebrations go well... Or, if the children are going to stay up until midnight to see the New Year in, print out some of our New Year printables to keep them busy! Find all our New Year activities below...
And of course these activities and printables are the perfect way to start the year in the classroom!

"Here's to the bright New Year
And a fond farewell to the old;
Here's to the things that are yet to come
And to the memories that we hold."
New Year Colouring!
Ring in the New Year with our colouring pages - we've got something for all ages from 2 to 100! And of course these are perfect for keeping kids busy in the long hours up to midnight...
New Year Printables
We have a huge collection of printables for the New Year, including picture galleries, bookmarks, jigsaws, cards, writing paper (useful for thank you notes!) and so much more...
New Year Puzzles for Kids
Keeping brains busy is easy when you have these fun New Year puzzles and mazes to enjoy! As always we have a range that can be enjoyed by all ages, up to granny and grandpa!
New Year Learning Resources
Our New Year learning resources are great for keeping skills ticking over before term starts in January, or for the first few days of school.
Goal Setting
Setting goals and New Year's Resolutions at the beginning of the New Year need not be boring or tedious - not when you give the kids Activity Village's fun and inspiring printables!
The New Year is a great time to reflect on the past year and set goals for the coming year. This is especially important for kids, who are constantly growing and changing. As a parent or teacher, you can help your child set realistic and achievable goals for the new year. Here are some tips and a lovely set of printables to get you started and encourage some successful goal-setting this year.
New Year Crafts for Kids
New Year can be a good excuse to get crafty and make a memory box, party decorations and so on, or turn New Year's resolutions into crafts too. We have lots of New Year craft ideas to enjoy with the kids - some messy, all quick and easy!
10 Movies to Watch with the Family on New Year's Eve
There's nothing nicer as parents than snuggling up on the sofa with the kids, with special drinks and popcorn, and watching a movie on New Year's Eve. Here are some suggestions for what to watch.
Back to the Future (10+)
Happy New Year Charlie Brown (4+)
High School Musical (8+)
Pete the Cat: A Groovy New Year (4+)
Rudolph's Shiny New Year (3+)
Sesame Street Celebrates Around the World (3+)
Sleepless in Seattle (11+)
Snoopy Presents: For Auld Lang Syne (3+)
While You Were Sleeping (11+)
Winnie the Pooh: A Very Merry Pooh Year (3+)
---
Sing Auld Lang Syne
Have a go at singing more of the verses of Auld Lang Syne - it's quite a challenge!
---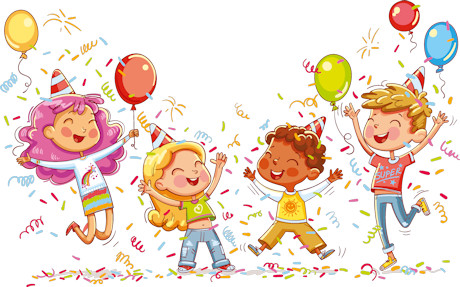 New Year's Eve Traditions from Around the World
All over the world we hold parties, wait up until midnight and watch fireworks on New Year's Eve, but there are lots of quirky traditions from around the world. Why not try one or two of them yourselves with the children, to ring in the changes this New Year?
Watching a ball drop in Times Square
One of the most famous New Year's Eve events is the gathering in Times Square in New York. The tradition started in 1904 as a party to celebrate the opening of the New York Times building, and over 200,000 people were there! Since 1907 a large ball has been dropped at midnight after the crowd counts down. Millions of people watch it on television!
First footing...
For many people in Scotland, the New Year is all about "first footing" – the tradition of being the first person to enter a friend or neighbour's house on New Year's Day - or just after midnight! First footing is thought to bring good luck for the coming year, and it's also a great way to start off the new year by spending time with friends and family. If the first footer is a tall and dark man with gifts of coal, salt, shortbread or whisky, all the better!
What will you eat?
Many countries have special food traditions for New Year's Eve and New Year's Day. In Italy, lentils are often served as their round shape represents coins. In the southern states of America, Hoppin' John, a dish or black-eyed peas, pork and rice is served, often with greens and cornbread. The peas represent coins, the greens represent paper money and the cornbread represents gold! https://en.wikipedia.org/wiki/Hoppin%27_John In the Philippines, people eat 12 round fruits one for each months of the year, to make sure that the year ahead is abundant! In many parts of Europe it is traditional to eat 12 grapes, one at each stroke of midnight, to make sure you have a lucky new year.
What will you wear?
In the Philippines, they wear dots. In Brazil, everyone dresses in white!
Break a plate!
In Denmark, it is traditional to break a plate or two on the doorsteps of family and friends. If you have lots of clearing up to do the next day, you must be popular!
Choose your knickers carefully!
In Italy, wear red underwear on New Year's Eve for good luck and to find love. In Latin America, new yellow underwear is thought to bring good luck and new white underwear will ensure a peaceful year.
Give someone a kiss!
In the UK (and Germany) it was thought that you should choose the first person you came into contact with on New Year's Day very carefully - especially if you were looking for a romantic year! In Ireland you have put a sprig of misteltoe, holly or ivy under your pillow on New Year's Eve to make sure you dreamed of your future partner.
Jump!
In Denmark you need to find a chair at midnight so that you can jump off it! By jumping off the chair, you can leap into the future, and also avoid stepping into the space between the old and the new year.
Onions!
Would you like to be woken up by an onion? In Greece, you might be! It is traditional to hang an onion inside your home - or perhaps a bunch of onions on your door - on New Year's Eve and then use them to wake up the kids by bonking them on their heads - gently, of course!
---
More Holidays for Kids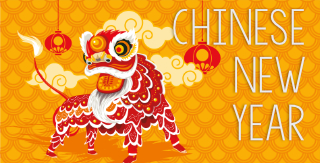 Chinese New Year Activities for Kids