Diwali
Diwali is celebrated by Hindus in India and all around the world in October or November. It is the Hindu New Year and is either a 3-day or 5-day holiday depending on where you come from.
The Festival of Lights
Diwali will next be celebrated on Sunday 12th November 2023.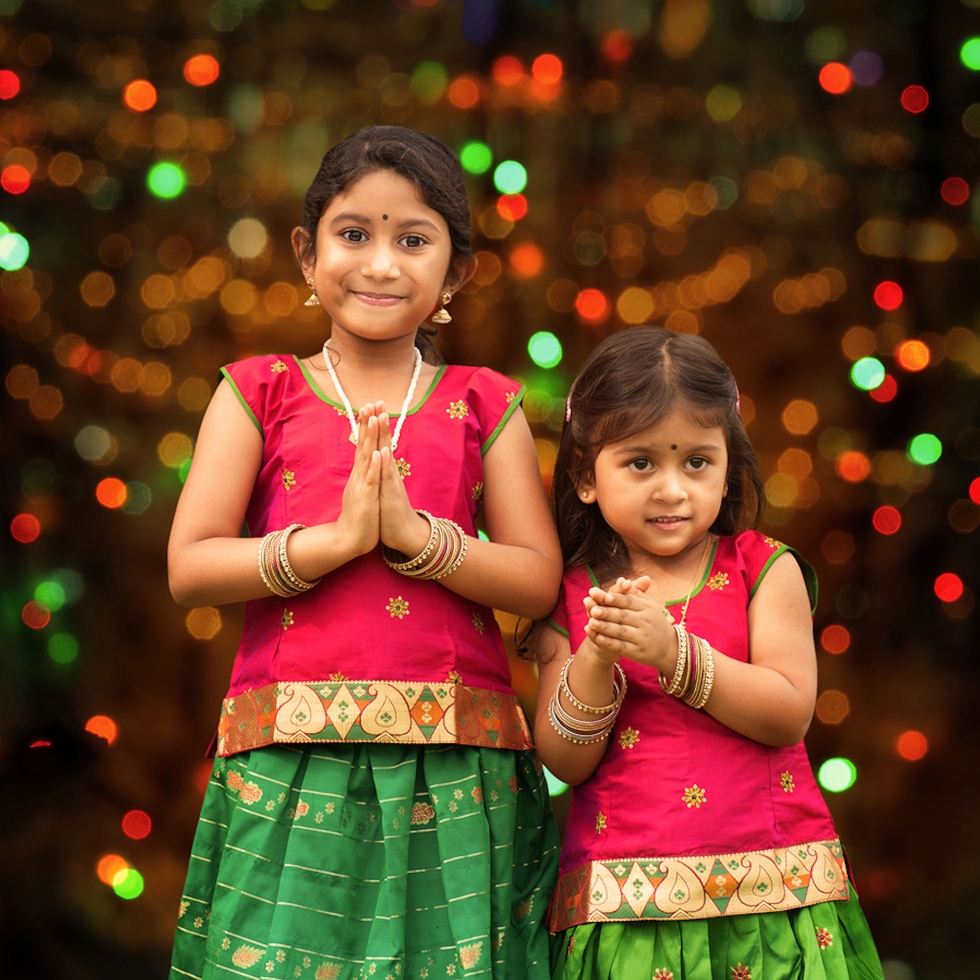 It is a very exciting and colourful holiday. Homes are cleaned to welcome the New Year and windows are opened so that the Hindu goddess of wealth, Lakshmi, can enter. It is believed that she cannot enter a house which is not lit up, so every household burns special Diwali clay lamps (diyas) to light the way for the goddess, which is why the holiday is also known as the Festival of Lights.

Diwali lamps for sale in the market
Children have a holiday from school. Presents are given and delicious holiday food is prepared and exchanged. New clothes and jewellery are worn. Parties are held, and dice and card games are played. Beautiful rangoli are created in entrances. Firecrackers are set off to warn off evil spirits, so it is a noisy holiday too! But perhaps the most exciting part of Diwali for children is the fireworks display that takes place in many cities around the world. These bright bursts of colour are seen as a way to celebrate the victory of good over evil and light over darkness, and they have been an integral part of this festival for centuries.
---
Bhaiya-Dooj For Brothers and Sisters
The last day of the holiday is a special day for brothers and sisters called Bhaiya-Dooj (or Bhaidooj, or Bhai Dooj). Brothers give special presents to their sisters, who cook for them and look after them. You'll find more about Bhaiya-Dooj below.
---
Celebrating Diwali
Diwali is an important holiday for many families around the world, celebrated with customs and traditions passed down from generation to generation. But perhaps one of the best parts of Diwali is how it engages children. There are so many fun activities that you can do with your little ones to help them learn about the history and meaning of this wonderful holiday. Some simple ideas include cooking traditional Diwali dishes together, such as sweet treats or savoury snacks; learning about different customs from around the world by reading stories (see our section on The Story of Diwali and our suggested reading list below) or watching movies; and getting creative by making decorations or jewellery inspired by the vibrant colours of Diwali. And of course you can explore below for all sorts of Diwali activities to enjoy with your children, including Diwali colouring pages, Diwali puzzles, all sorts of colourful Diwali printables and even Diwali worksheets to brighten up your classroom! Whether you are a long-time devotee of this holiday or simply looking for ways to engage your little ones, there are endless ways to make Diwali a truly special time for the whole family.
---
Our Diwali Activities for Kids
Diwali is one of the most important religious festivals in India, celebrated by Hindus and Sikhs alike. At its core, diwali is a celebration of the goddess Lakshmi, who is revered for her role in bringing wealth, prosperity, and good fortune to those who worship her. Each year during Diwali, people come together to share food and light candles to honour this powerful deity and keep her blessings flowing throughout their lives. As one of the most enduring traditions in Indian culture, Diwali is a beloved time for reflection on family and community, while also serving as a reminder of the divine origins and connection that binds us all together.
---
Diwali Books for Children
Here is our collection of suggested Diwali books to enjoy with your children.
The Diwali Gift by Shweta Chopra and Shuchi Mehta
Diwali by Nancy Dickmann
Diwali (Celebrate the World) by Hannah Eliot
Lights for Gita by Rachna Gilmore
Amma, Tell Me About… Diwali! by Bhakti Mathur
Lots of Lights by Kavita Sahai
Little Glow by Katie Sahota
The Best Diwali Ever by Sonali Shah
Binny's Diwali by Thrity Umrigar
Lighting a Lamp: A Divali Story by Jonny Zucker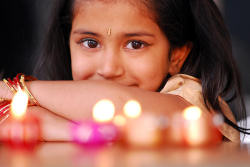 ---
Learn About India
If you are interested in Diwali, why not find out more about India too and explore our India for Kids theme page?


India for Kids

Dancing at Diwali!